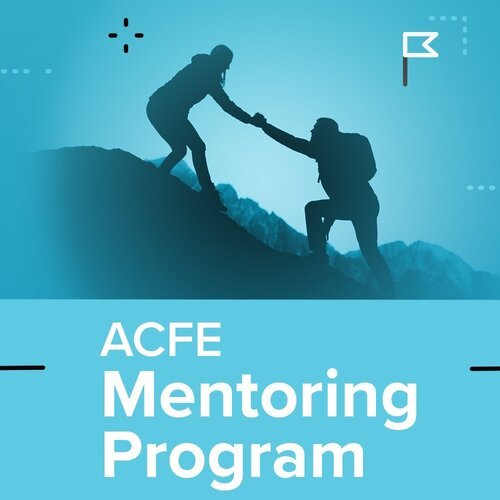 Attention ACFE members, you're invited to join the Mentoring Program!
The ACFE Mentoring Program connects ACFE members to anti-fraud professionals from all over the world who can offer a wealth of resources, experience, advice and guidance. Here are some basics about the program and how it works.
There are two sessions per year, each one lasting about six months.

Before each session starts, there's a month-long matching period so that mentors and mentees can find each other.

Enrollment is free for all ACFE members in good standing.

Participants can choose to meet by phone, video chat, email or in person, and must commit to one hour per month.
The next session starts on July 12, 2022, and the matching period begins May 27, 2022. If you're interested in participating in the upcoming session, we recommend enrolling as either a mentor or a mentee as soon as possible so that you can get to work on finding a match.
What mentors need to know
By participating in this program, CFE mentors commit to the professional growth of their mentee(s) and invest in the overall future of fraud detection and deterrence.
You must be a CFE.

You may have up to three mentees for the duration of each session.

Mentees are responsible for making the first contact with a potential mentor, so you do not have to search for a mentee.
What mentees need to know
Mentees are ready to take the next steps to grow in their career and to make their professional goals a reality.
You may have one mentor per six-month session.

You are responsible for making the first contact with a potential mentor.

Use the Mentor Directory to research potential mentors and understand how they can help you.

Approach a mentor with a clear goal that you are committed to executing for the duration of the program.
Your next steps
As we mentioned above, the next session begins on July 12, 2022. We have more program guidelines, resources and FAQs available in the ACFE Community. If this sounds like something you'd be interested in joining, enrollment for the upcoming session of the ACFE Mentoring Program is open and the matching period is underway. Visit the ACFE Mentoring Program homepage for more information . Or if you're ready to enroll, click one of the buttons below.
Enroll as a mentor Enroll as a mentee SOURCE: ACFE Insights – A Publication of the Association of Certified Fraud Examiners