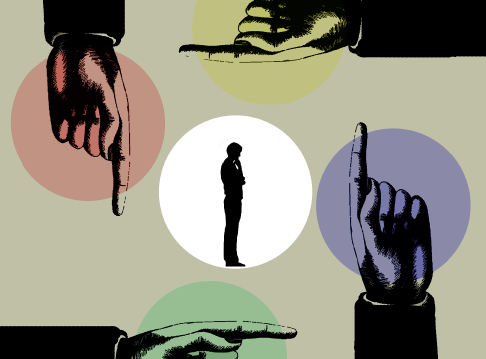 In this episode, Dr. Vince Haecker, assistant special agent-in-charge for the U.S. Department of the Interior- Office of Inspector General, discusses why it's pivotal to trust your instincts as an investigator and empower those around you to ask questions when something doesn't seem right. He also stresses the importance of communication with other departments in your organization and staying objective while researching.
In the excerpt below from episode 113, Vince talks about the importance of creativity and empowering not only fraud examiners, but all employees, to dig deeper and ask the hard questions. Download the full transcript in PDF form or listen to the episode at the bottom of this post.
Sarah: That was one thing that you brought up in your session that I was in; that whole idea that we have to empower those people. Do you have any advice for fraud examiners or investigators for what they can do? Or if you are managing a team of people or have seniority over people, what can you do to make them feel empowered? Are there certain things to remind them of or check-ins, or do you have any advice for that?
Vince: Yes. I think a lot of it is fostering a creative environment because government contracting has been around forever. We can't think we're going to take an old approach and put it towards this constantly evolving process of contracting and procurement. We have to be creative. Again, not become insider private eyes or Sherlock Holmes, but we have to dig a little bit and I think we have to as managers empower our staff to look at things from a divergent lens, approach it from a different angle, and maybe we'll come out with a different outcome.
Again, my soapbox, right, of being in a creative environment. I have the very rare opportunity in this Inspector General's Office where I have an IG who really sparks creativity; he really likes to empower us. He wants us to be creative and think outside the box for divergent solutions to old systemic problems, so that's great. That coupled with, we know that the government has a fiduciary responsibility; it's our job to protect the money. That's a great thing to pair together so we have to be able to reward that. We have to be able to encourage that and reward that and also give our staff the freedom of not everything you do is going to come to fruition. It may fail but you have to try. I think we have to give them the space and grace to try new things and not be worried about failure.
Sarah: That's fantastic. Just giving people– I feel like it's just putting your trust in them and letting them know that you trust them and trust their instincts, trust their professional skills. I feel like that's very, very important for not just the anti-fraud field but for all fields, just for bosses to let their people know that.
Vince: I think when you allow people to probe deeper, I think they gain a deeper understanding of an issue. They gain a deeper intellectual, or they gain a deeper understanding, of a policy or regulation or process. I think that's only going to benefit them and it'll benefit us as their managers because now that we have a subject matter expert on our hands who's really dove into this and followed it to the end.
I think empowerment is one of those things where, for some reason, it becomes hard as managers. We want to tend to actively manage or micromanage but I think we typically have brought people on because they bring these diverse assets to our team and then we don't utilize those diverse assets. We know we hired you because you have all these great tools, but don't use those here. We have to trust people like you said.
Any reference to any person, or organization, or activities, products, or services related to such person or organization, or any linkages from this website to the website of another party, do not constitute or imply the endorsement, recommendation, or favoring of the U.S. Government, the DOI OIG, or any of its employees acting on its behalf.